IPTECHVIEW Basic Certification Training
May 26, 2023 9:00 AM - 3:30 PM CDT Fantasyland Hotel - *Room Change - Medoch Room - 17700 - 87 Avenue, Edmonton, AB T5T 4V4
Join us on May 26, 2023 at Fantasyland Hotel in Edmonton, AB for IPTECHVIEW Basic Certification Training. This is the first of our 2-level training program for IPTECHVIEW, our cloud-based, partner-centric video surveillance platform designed for integrators like you to offer secure, convenient, and rapid support to your customers.
Why should you attend?
Learn how to deploy pre-configured IPTECHVIEW-Ready™ cameras

Learn how to create the most powerful and efficient IP camera solutions for your customers

Learn how you can offer protection and situational awareness plus the ability to proactively prevent issues

Learn how you can provide your customers secure cloud access to view and access all the key features of their camera system

Learn the details of setting up IPTECHVIEW SYSTEM for your business

Learn how to quote & sell, and how best to offer it to your customers to create a win-win situation.
Topics we'll cover:
Basics of IPTECHVIEW SURVEILLANCE - overview of platform, setup and adding customers, devices and access for users
Basics of IPTECHVIEW SYSTEM - overview of concept, menu, features, and hands-on opportunities setting up various IPTECHVIEW-Ready™ devices and cameras

Discover the value and benefits of adding IPTECHVIEW SURVEILLANCE & SYSTEM to your toolbox
Following this training, you will have the knowledge and confidence to successfully add your video surveillance and edge devices to the IPTECHVIEW platform allowing you to securely and remotely manage and monitor the platform. Additionally, you will walk away with a time-saving and cost-effective surveillance and management solution for your customers while creating Recurring Monthly Revenue and improving customer retention and satisfaction.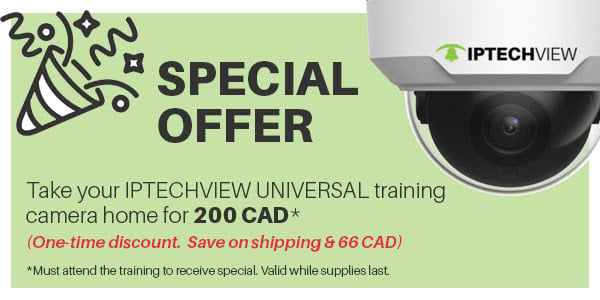 P.S. For anyone attending the training, we have specially discounted accommodation available at Fantasyland Hotel in case you want to make a long weekend out of it. Deadline to receive this special discount is May 5, 2023.