The evolving need for security, features, compliance, firmware patches, and performance makes a good case to get your customers with up-to-date new hardware and software.
It's good MSP practice to run scheduled replacements as preemptive maintenance to continually receive new firmware updates, and new features which ultimately leads to better performance as well as minimize security risks and vulnerabilities.
See the following DrayTek models being decommissioned.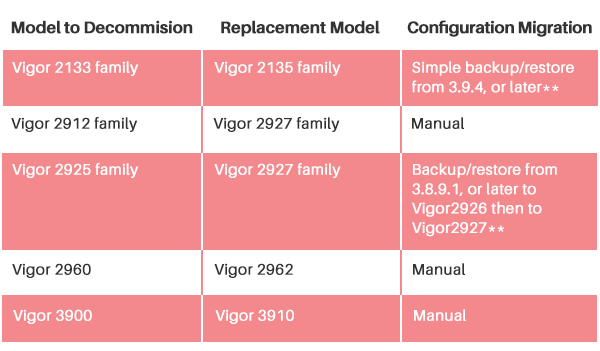 We are offering an incentive program and migration help for routers. Follow the steps below to start the replacement process:
| | |
| --- | --- |
| | Identify any 2133, 2912, 2925, 2960, or 3900 you have in the field you want to replace, and take note of the serial number/LAN MAC address. |
| | Order from your DrayTek master distributor, the direct replacement one-to-one units indicating the SN/MAC of devices to be decommissioned and we'll credit 20% of the brand-new unit price. |
| | Retire and destroy old hardware. Fill out this hardware decommissioning affidavit form. |
| | You'll get 20% back via store credit or credit card refund. |
Please note: *no extra discount for already bulk discounted pricing
**in addition to configuration backup, backup of individual tables may also be needed (i.e. bind IP to MAC, and VPN profiles)
This incentive program is valid until February 28, 2023.